WA - Quantum GmbH
Quantum Chip

WA-Quantum GmbH is a manufacturer of high technology products. Among their products are this line of "Chips" operating at a sub-atomic Quantum level, which improve the efficiency of current flow and signal transmission in audio devices including fuses, capacitors, phono cartridges and tonearms, transformers, transducers, and audio cabling.
Special chips are also available for use with both electronic and acoustic musical instruments.
In each case the Chip is mounted on an adhesive backing which can be attached to the device.
The Chips are "programmed" for their specified applications.
---
Testimonials & Reviews:

WA-Quantum Fuse Chips:
"It was immediately evident that they worked...there was an ease to the sound as well as openness...they add to the holographic image an ease and musicality. You hear more of the character of the voice and the instruments involved in the music."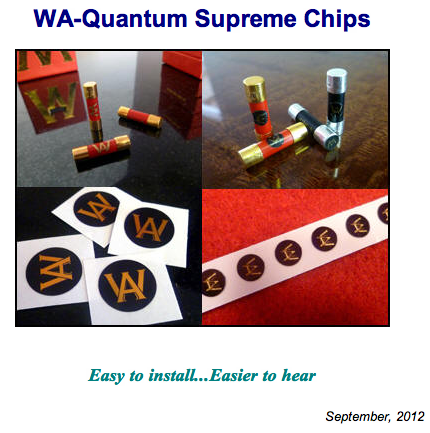 WA-Quantum Cable Chips:
"...a substantial benefit to the sound. In particular, Marsalis's trumpet had a better tone than earlier. The same was true of the drums and piano on the same recording. Similarly, Sinatra was more present on a sound stage with a big band and audience on his Sinatra at the Sands recording thanks to the WA-Quantum cable Chips."
WA-Quantum Transformer Chips:
"...I was somewhat dubious of the WA-Quantum Chips applied to these transformers. But their impact on the sound was just spectacular! I just sat and listened to all my sample cuts as well as many, many other albums.
Sinatra at the Sands was just real and I had a great seat. I was on stage with Holly Cole. Willie Nelson and Winton Marsalis and their band were just captured so accurately in their Two Men with the Blues, album"
From the conclusion:
"...I will not be without these Chips and suspect that capacitor and cartridge Chips are in my future."
-Norm Luttbeg, Sept. 2012
www.Stereotimes.com
Excerpts from an email received from a dealer: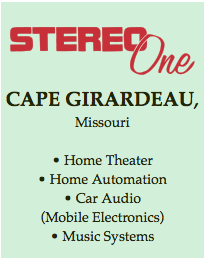 "Given the fact that I got off a few exits before Quantum Theory in
College, I'll try to gather my mostly analog thoughts and produce an
opinion that appears to be somewhat rational.
The Fuse Chips:
I am very familiar with HiFi Tuning Fuses. They rate right up there
near the top of my list of stuff that
surely-can't-make-that-big-a-difference -- but does. I was very
skeptical of placing a little dot on the end of a standard 5mm fuse
and expect any other than having something black and dull attached
rather than a shinny metal end. The energy transformation was
stunning. Stronger, more focused dynamics. Smoother sound overall.
And, the very difficult to get right lower mid moved forward with
better definition and detail. Is this the bargain of the century in
the HiFi world? Could be. And, yes, I did try it on the HiFi Tuning
fuse and, yes, the result was similar.
The Speaker Chips:
I built, and patented, my own speakers. They are a petit 6'-4" tall
with separate open tweeter column and sealed mid-bass column. If the
speakers have a "wart" it would be a "thick" lower midrange due to
so-so structural integrity creating cabinet resonances. At first
listen with the chips attached to the side of the speakers, the upper
mid was cleaner. And, then I noticed that the acoustical output was
slightly less. Further listening revealed a reduction in the lower
midrange "thickness", which had been a characteristic of the speaker.
I concluded that the reduced output was simply a reduction in cabinet
resonance. So, what was missing, or at least attenuated to a
noticeable degree, was aberrations created by the cabinet.
Interesting."
"Conclusion:
I hold products that deliver real sonic improvements in pretty high
esteem. Although I can't explain what they do, or why they do it,
they do something special to the device they are attached to.
I'll be ordering more of these for our customers, and for use in my
personal system.
Thanks for the recommendation."
John Selby
Stereo One Inc., Cape Girardeau, MO
---


"I've applied and removed the chips often enough to be as sure as I'll ever be that they're effective. Since I'm so tickled by what they accomplish, I'm reluctant to wear them out with further, quite unnecessary, on-off comparisons. Given a decent recording, they bring life to the occasion.
The loudspeaker chips are $130 / pair. To look at, expensive. To hear, a bargain." -Mike Silverton, Stereotimes. Click here for complete review.
•••••

"I then re-installed all of the Quantums including the fuse chips. What an amazing product. The frequency spectrum presented a clarity like I never heard before. The soundstage benefited immensely from the addition of the Q-Chips. They never messed with the tone, nor did they interfere with the dynamic range. They just made better (better). " -MM 5/12